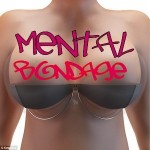 Get even more addicted to your addiction! My new mp3 "Mental Bondage" uses clever psychological techniques including the power of suggestion and an ASMR whisper track to make you more addicted to your favorite obsession, vice, pleasure or poison. It doesn't matter what you're addicted to sexually or otherwise. My voice will appeal to the addiction center in your brain and of course, to your hard cock. While listening to this compelling audio adventure, you will be so helpless and mindless, that you will not even realize what is happening to you. All you will know is pleasure, more pleasure.
"Mental Bondage" is a shorter mp3 experience designed for direct impact on your brain. There is no fluff or padding. I get right to the heart of your addiction and take control. Meanwhile the ASMR whisper track takes hold of your sensory center and leaves you in a daze.
I find it amusing that so many men try to run from their addiction, the addiction that gives men the pleasure that they can't get any other way. This is why I decided to configure an audio recording that would focus on "Mental Bondage". You have heard the cliche: You can run but you can't hide. And this is the essence of your addiction. Even if you try to run away, the "Mental Bondage" is so strong, my voice will keep you tethered to me. You can never hide from me. Click now and download this file to experience the maximum pleasure from your addiction.
Mental Bondage an MP3 by Miss Kay is only $12.99 and is 11minutes long.