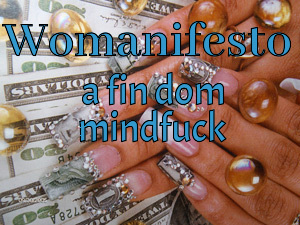 Quite a few of my fin subs, money slaves and pay pigs have begged to pay me to record an all-inclusive manifesto of my FinDomme beliefs. Words for them to live by. First of all, it should be called a Womanifesto. Second, I went into my pro grade home studio and crafted this audio for my financial followers. This new recording outlines all of my beliefs as an elite Financial Domme. These beliefs are very draconian. Beware, I am so hardcore that I will own you!
I recommend that you listen to this audio as a gateway recording if you have never listened to any of my Financial Domination mp3s. And I recommend you listen to this audio if you have never spoken to me for a live Financial Domination Phone Sex session. And finally, I recommend you listen to this audio if you need to be reminded in proclamation fashion of your duties as a fin sub, money slave or pay pig to Miss Kay.
I am a very popular Money Domme online. This takes more than just being beautiful, greedy and putting up Tribute buttons on Niteflirt. Financial Domination is a total lifestyle. My lovely home in California, my expensive furniture and furnishings, my sporty car, my exotic vacations, my luxury wardrobe, everything has been paid for by my devotees. If you wish to join my harem of money slaves, you will also buy and listen to this mp3 plus every installment in my amazing Money Minions mp3 series. Click now to buy my new Financial Domme recording!