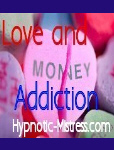 My new erotic hypnosis mp3 "Love Addiction & Money" is truly the definition of erotic. In this new mp3 file, I cast a blissful and addictive love spell over you. Don't you want to fall in love? You will feel so very blissed out, you won't be able to stop yourself from falling in love with me and getting addicted to me. This recording will change your life and make you feel deep emotions that will redefine you and give your life new meaning and purpose. Money slaves and pay pigs, you will feel compelled to devote yourselves to me financially. My beautiful love and addiction spell has been reflected so perfectly in this truly evocative recording. I not only use my hypnotic powers to cast my spell, but also layer a seductive whisper track that captivates your subliminal mind and sweeps you away! Powerful love spells have been around for centuries. Women want men to fall in love with them. And I am a beautiful and dominant woman, the woman of your dreams! Of course, I want you to fall in love with me and be mine. Love is addictive and though my hypnotic magic, I have made it exponentially more addictive. I will show you how to express your love for me. Money slaves, you will find out exactly what is expected of you when you fall in love with me.
Go deeper into love than ever before. Erotic hypnosis can make you feel any emotion more powerfully than when you are in your wakeful state. Love is the most powerful emotion of all. And my spell is so irresistible. Don't stop yourself from buying this new hypno file and listening right away! Especially when you will own this file forever. When you can add it to your collection. When you can listen to it on any device you have which plays the mp3 file format. Don't wait for love. Love awaits you. Click now.This file is 39 mins long with a layered binaural beats and music as well as a whisper track…
Update Required
To play the media you will need to either update your browser to a recent version or update your
Flash plugin
.