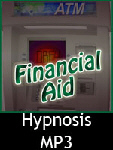 This is a hypnosis induced Financial Domination file purchase at your own desire. This file is as much self-help as it is domination. I know how hard money matters can be, and how many hard choices there are with your money. I know how stressful and overwhelming managing your money can be. This isn't a file about taking your money, it's a file about helping you see just what you need to do to make your life more manageable. You will be hypnotized, you will be controlled, and you will give me just what I want. When you go to purchase, you'll see two prices.
This file includes: guided imagery and deep relaxation, a strong countdown, and powerful post hypnotic suggestions linking masturbation to financial submission. This file also includes guided masturbation, masturbation control, orgasm command and conditioning, as well as strong overt hypnotic commands to tribute and subjugate yourself to me. Stereo Recording Background Music & Subliminal commands
41:17 minutes – $35.00
Update Required
To play the media you will need to either update your browser to a recent version or update your
Flash plugin
.