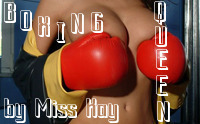 Introducing my newest Erotic Hypnosis file – Boxing Queen. In this hypnotic file, I explore a unique fetish called Agonophilia. If you aren't familiar with Agonophilia, it is a fight sports fetish with a few different variations. One variation is where you become aroused seeing two women engage in boxing, MMA or wrestling. Another variation is that you enjoy fantasies of engaging in a boxing, MMA or wrestling match with a woman, especially a strong, determined Femdom. As another spin off, you would potentially become aroused by the whole fight event including the ring or cage, the sound of the bell, etc., and possibly have fetishes for specific gear like boxing gloves or satin boxing shorts.
Most men already feel an adrenaline and testosterone rush when watching fight spots, because it taps into a primitive male fighting instinct. It's only natural for this male adrenaline and testosterone rush to lead to eroticism. Don't fight the urge (pun intended) to buy this file and explore the eroticism of Agonophilia with my beautiful voice guiding you. What makes this file so alluring is that I take boxing lessons in real life and I bring my knowledge of the sport to the hypnotic level. And yes, I approach boxing as a Femdom and love to beat men in sparring matches.
Boxing Queen will appeal to any men who enjoy Femdom erotic hypnosis mp3s even if you weren't aware of Agonophilia until I gave you an overview here. Buy this hypno file now and enjoy!
Update Required
To play the media you will need to either update your browser to a recent version or update your
Flash plugin
.