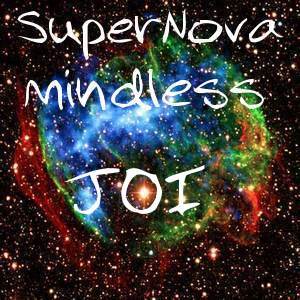 In this brand new hypnosis file, entitled Supernova, you will experience deep trance with erotic JOI, potent triggers to compel you to both stroke and release, intriguing NLP elements and IQ draining. IQ draining makes you more vulnerable to all of my hypnotic powers. The induction and deepener that I devised are detailed and enchanting. You will achieve a blissful trance state before I weave in the evocative elements that will captivate your inner mind. I will drop you down so deep, you will experience primal urges that you can't access without my hypnotic voice and artful skill.
The dreamy music track and relaxing binaural delta beats I layer in, will enhance your rapturous experience. You will find yourself floating in space and time with only my tempting voice as your tether. The theme of this audio extravaganza is astral and cosmic. The universe outside us, is within us. After you listen to this arousing ear porn, there may be side effects! The side effects will be that you may find you will not want to masturbate without listening to this recording again and again. Or that you will seek out my other Jerk Off Instruction hypno files that I have available. Or that you will call to experience my sexy voice bringing you to a mind blowing orgasm in a live hypnosis phone session.
There is no time like the present to be in touch with your future. Click to purchase and download this stunning hypno audio and set aside the time to indulge in a mesmerizing journey into your mind. File time is 34:00mins. To experience the binaural beats perception, it is best to listen to this file with headphones on moderate to weak volume – the sound should be easily heard, but not loud. Note that the sound appears to pulsate only when heard through both earphones.
Binaural Beats Base tone 200 Hz, beat frequency from 7 Hz to 12,9 Hz